Gummy Minnows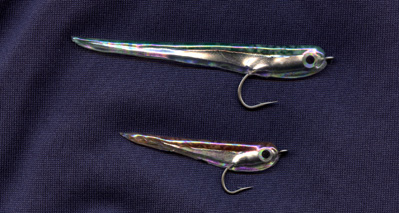 Is it a fly? Definitely crosses some lines! Inspired by soft plastic freshwater baits, the new gummy minnows are some of the coolest baitfish imitations to come down the pike in years. As far as fly fishing goes, you really haven't seen anything like it! Designed for smallmouth but it works great on largemouth, saltwater fish, trout and just about anything else that eats a minnow! Tied on stainless saltwater hooks just like the Clouser Minnows, Gummy Minnows are made with new Sili Skin and designed by Blane Chocklet for Umpqua Feather Merchants.
The size 2 is good for bass, saltwater and other large gamefish and is featured on the top row of the picture here. The size 6 works well for trout and smallmouth and other medium sized gamefish. Our favorite little Gummy Minnows, the Mini-Gummies in size 8, are fantastic bluegill and crappie flies!

Sili Skin is a new, breakthrough material with uses only limited by a tyer's imagination. Currently used in Umpqua Feather Merchants' Chocklett's Gummy Minnow Series. This material is ideal for creating extremely realistic and effective baitfish patterns. Comes in two 2" X 6" strips of transluscent one-sided adhesive, with instructions on general use. If you tie baitfish patterns for saltwater, bass or trout, you should give this revolutionary material a try. Comes in a variety of colors and also includes instructions on tying the new Gummy Minnows.




So, whether you are tying flies for trout, bass, muskie or saltwater, Alaska to the Bahamas and everything in-between…..check out Mad River Outfitters, featuring the new Gummy Minnows and the Sili Skin used to tie them. We have the fly tying supplies...and the flies that you need! We are proud to represent the fly fishing industry and serve our customers with the finest products and exceptional service. Fly Fishing rods and reels, flies, tackle, trips, fly tying, classes and seminars….we have it all.


Check out our easy-to-use online store which offers FREE shipping on all orders over $25.00……featuring one of the internet's best selections of fly tying supplies.

Your online source for Gummy Minnows and Sili-Skin!

Home

Site Map

About MRO

Online Store

Trips

Classes & Seminars

Guide Service

Calendar

Fishing Reports

Steelhead

MRO Chronicle

Photo Albums

News

Mad River Media

Links

E-mail Us
Gummy Minnows/Sili-Skin