SAGE Fly Rods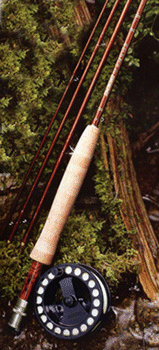 Looking for SAGE fly rods? Mad River Outfitters carries a wide selection of fly rods from most of the major manufacturers and they are all featured on our easy-to-use and very secure online store. We feature all of SAGE's fly rods including the new ZXL series and the new Bass Rods.
Not to mention, all orders over $25.00 are FREE of shipping charges. We are proud to be a dealer for the SAGE Fly rod company…..recognized as the leader in fly rod technology.

It all began well over 20 years ago on a little island nest in the shadow of the Olympic Mountains……
Founded in 1980 by legendary rod designer Don Green, SAGE fly rods was created with one idea in mind…..build the world's finest performance fly rods. Using world class materials and years of experience gained while working with Fenwick and Grizzly rod companies, Don revolutionized the fly fishing world.

Sage continues to seek performance advantages through new materials and designs, marketing it's products through a network of specialty dealers. Yet more than ever, the Sage fly rod company remains focused on one goal, which is best summarized by it's statement of purpose: We are passionate about our business of creating fishing products that will continually exceed the fly anglers expectations. Wherever in the world your fly fishing takes you, it's safe to say that Sage has the products to enhance your fly fishing experience.

So, whether looking for your 1st fly rod, or one for that special trip…..check out Mad River Outfitters. We have a SAGE fly rod for you! We are proud to represent the fly fishing industry and serve our customers with the finest products and exceptional service. Fly Fishing rods and reels, flies, tackle, trips, classes and seminars….we have it all. Check out our easy-to-use online store which offers FREE shipping on all orders over $25.00.
All SAGE fly rod models featured in our Online Store!

Your online source for SAGE rods!

Home

Site Map

About MRO

Online Store

Trips

Classes & Seminars

Guide Service

Calendar

Fishing Reports

Steelhead

MRO Chronicle

Photo Albums
More On Fly Fishing Rods
SAGE Fly Rods