Patagonia Trouters
featuring legendary guide Nicolas Gonzalez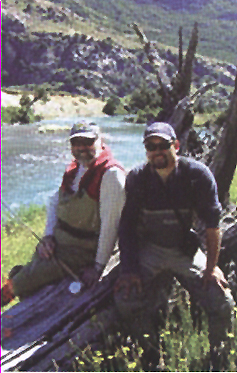 Looking for information on Fly Fishing in Patagonia...and maybe looking for Nicolas Gonzalez? Mad River Outfitters can help!!! Fly fishing in Patagonia is a very special subject with us and we offer several trip offerings throughout the season and serve as a full booking agent and outfitter for Nicolas Gonzalez and his Patagonia Trouters. We can also help you with gear and fly selections as well as help guide you through the airports.

Fly fishing in Patagonia has been described as being like fishing in Montana 100 years ago. Breathtaking scenery, crystal clear lakes and streams, Chilean hospitality…..all make fly fishing in Patagonia an incredible life experience. While filming a Walker's Cay Chronicles with us in 2005, legendary angler Flip Pallot claimed that the Patagonia region of Chile offered "The best fly fishing in the world".
The landscapes of the Chilean Patagonia are of an overwhelming natural beauty. The mixture of the natural elements- wind, water and sun- continuously transform this magical landscape, giving it life…..and making this region a unique and unforgettable corner of the world.
Not to mention, Coyhaique Town, our base of operations, is also known as the "brown trout capitol of the world". That's where we come in……..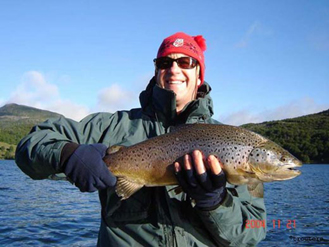 Patagonia Trouters is a family owned, local business in Coyhaique, Chile, that is now offering it's expertise…………… gained from years of experience in the fly fishing and regional tourism business.
Nicolas Gonzalez….or Nico as we call him……. is a native of the Aysen Region, where he has been a professional fly fishing guide for more than 15 years now. Nicolas is a pure pleasure to fish with and knows the waters in the region as well as anybody. He is licensed by the regional guides association, is certified in First Aid, and also speaks perfect English! Flip Pallot, who fished with Nico for the filming of two "Walker's Cay Chronicles", declared Nico to be one of the best guides he had ever fished with! Nico also works with some of the best guides in the region when larger groups require.
Nico and his wife Ilsie have teamed up with Brian Flechsig of Mad River Outfitters/Mad River Media and will be offering very exclusive, custom trips to the Patagonia Region of Chile. One of our specialties will be couples trips, offering a non-fishing alternative for those who wish to bring spouses or non-fishing others. This exciting "tour" package has been put together by the partners….but Brian and Nico also promise not to lose sight of why we are there…..trophy trout on dry flies! This season, as an added bonus, our clients will be housed at the incredible LaPasarela Lodge on the banks of the Simpson River, just outside of Coyhaique.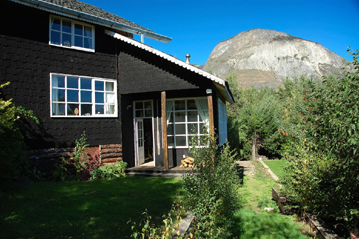 Beautiful Lodging!

Mad River Outfitters is proud to be booking agents and outfitters for Patagonia Trouters, located in the Brown Trout Capitol of the world....Coyhaique, Chile. Information on these and other trips can be found by visiting our webiste.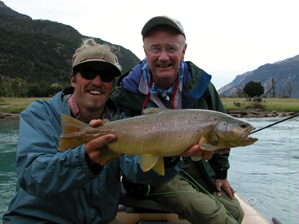 We are proud to represent the fly fishing industry and serve our customers with the finest products and exceptional service. Fly Fishing rods and reels, flies, tackle, trips, classes and seminars….we have it all! Check out our easy-to-use online store which offers FREE shipping on all orders over $25.00

Your online outfitter and booking agent for Nicolas Gonzalez and his Patagonia Trouters!

Home

Site Map

About MRO

Online Store

Trips

Classes & Seminars

Guide Service

Calendar

Fishing Reports

Steelhead

MRO Chronicle

Photo Albums
Patagonia Trouters- Nicolas Gonzalez