Fly Fishing in Patagonia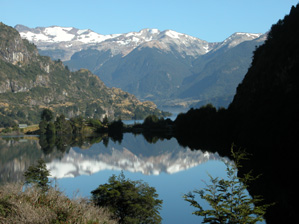 Looking for information on Fly Fishing in Patagonia? Mad River Outfitters has been there and done that! Fly fishing in Patagonia is a very special subject with us and we offer several trip offerings throughout the season and serve as a full booking agent for several lodges and outfitters in the land down South. We can also help you with gear and fly selections as well as help guide you through the airports.

Fly fishing in Patagonia has been described as being like fishing in Montana 100 years ago. Breathtaking scenery, crystal clear lakes and streams, Chilean hospitality…..all make fly fishing in Patagonia an incredible life experience. While filming a Walker's Cay Chronicles with us in 2005, legendary angler Flip Pallot claimed that the Patagonia region of Chile offered "The best fly fishing in the world".
Mad River Outfitters is proud to be booking agents and outfitters for Patagonia Trouters, located in the Brown Trout Capitol of the world.......Coyhaique, Chile. Information on these and other trips can be found by visiting our webiste.
View some pictures of our infamous Chile Fly Fishing Trips:
Patagonia, Chile #1
Patagonia, Chile #2
Patagonia, Chile #3

"Fly fishing rewards those who learn, those who are patient, those who preserve, those who are adventurous, those who love nature and above all, those who can find themselves alone in the middle of a river with a rod, with the whisper of the current and a thought: in this precise movement there is no other place I'd rather be."

"There is a place in the world where the special beings that are fly fisherman, find their answers. There is a place where you can travel hundreds of kilometers, wade entire rivers, and float lakes from one shore to the other, and not see another human being. This place has a name………it's called Patagonia.

"Fly Fishing in Patagonia- The Lake District"- Francisco Bedeschi/ Juan Pablo Reynol

So, whether you are looking to book a trip or simply need some advice on flies and tackle, when it comes to fly fishing in Patagonia…..check out Mad River Outfitters. We can help!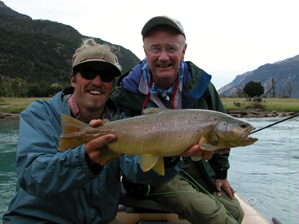 We are proud to represent the fly fishing industry and serve our customers with the finest products and exceptional service. Fly Fishing rods and reels, flies, tackle, trips, classes and seminars….we have it all! Check out our easy-to-use online store which offers FREE shipping on all orders over $25.00

Your online source for fly fishing in Patagonia!

Home

Site Map

About MRO

Online Store

Trips

Classes & Seminars

Guide Service

Calendar

Fishing Reports

Steelhead

MRO Chronicle

Photo Albums
Fly Fishing in Patagonia